Endlich gibt es frische Erdbeeren und das muss auch ein sonntäglicher Erdbeerkuchen her. Frühe habe ich fertige Kuchenböden gekauft, heute mache ich ihn selber. Ich nehmen eine Biskuitkuchen in einer Obstkuchenform.
Obstkuchen
4 Eier
120 g Rohrohrzucker
120 g Mehl, Typ 550
1/2 Vanilleschote
1 TL Backpulver
Prise Salz
Eier trennen und das Eiweiß mit einer Prise Salz sehr steifschlagen. Dann auf Stufe 1 zurückschalten und erst das Eigelb, dann das Mark der halben Vanilleschoten, den Zucker und zum Schluss das Mehl, vermischt mit dem Backpulver, einrühren. In die Obstkuchenform füllen und bei 175 Grad ca 25 Minuten im untersten Einschub backen. Abkühlen lassen.
Zwischenbelag
125 g Butter
3 EL Puderzucker
Die weiche Butter mit Puderzucker vermischen und auf den Boden streichen. Etwas hart werden lassen.
500 ml Milch
1 Packung Vanillepudding
3 EL Rohrohrzucker
Alternativ Pudding gemäß Packungsanleitung zubereiten (Hälfte reicht auch) und auf dem Boden geben.
Dann ca 300 g Erdbeeren waschen und vierteln und in die noch etwas weiche Butter/Pudding drücken. Zum Schluss, nach Belieben noch Tortenguss darüber geben. Erkalten und geelieren lassen. Fertig.
Vor dem Servieren
Sahne steif schlagen. Sahne auf den einzelnen Erdbeertortenstücken anrichten und mit der Gewürz-Blüten-Mischung bestreuen.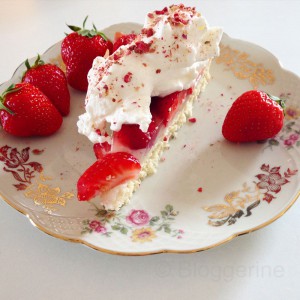 ***** Strawberrycake *****
flan case
4 eggs
4.2 oz raw cane sugar
4.2 oz flour
1/2 vanilla bean
1 tsp baking powder
pinch salt
Separate eggs. Beat egg white with a pinch of salt until very stiff. Reduce the speed of your kitchen aid. Add egg yolk, the inner of a half vanilla bean, then the raw cane sugar and at least the flour mixed up with baking powder. Put all in a baking fruit pan (with some space in the middle, just a higher edge). Baking 175°/347 F for 25 minutes on the lowest slide. Let it cool down.
Add some butter mixed up with some powder raw cane sugar or cook some vanilla pudding. Cut strawberries in 4 pieces and put them on the creamy butter or pudding. At least, if you like, add some glaze.
For serving put whipped cream on each piece and some spice-blossom-mix (red-pepper, strawberry, rasperry, cornflower, vanilla). Enjoy.