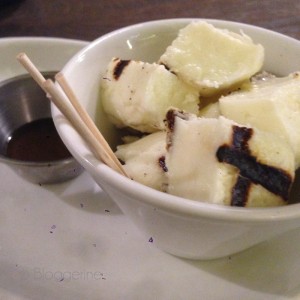 Halloumi, gegrillt mit Dip als Vorspeise
Von unseren Apartment in der Nähe von King's Cross und somit am Übergang der zentralen, nördlichen Stadtbezirke London Borough of Camden und Borough of Islington gelegen, war es nicht weit zur Underground Station Angel. Dort haben wir gleich am ersten Tag, bei der Erkundung unserer Wohnungsumgebung, eine Filiale von Gourment Burger Kitchen aufgesucht und einige vegetarische Angebote getestet.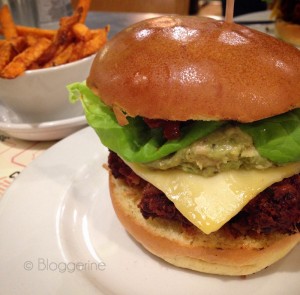 Californian – Vegetarischer Burger
Der vegetarische Burger und die Falafel waren sehr lecker. Halloumi sowie so. Zum ersten Mal in London gegessen und gleich ins Herz geschlossen: sweet potato fries. Warum bin ich noch nicht auf die Idee gekommen aus Süßkartoffeln Pommes zu machen? Kommt auf jeden Fall auf die To do Liste.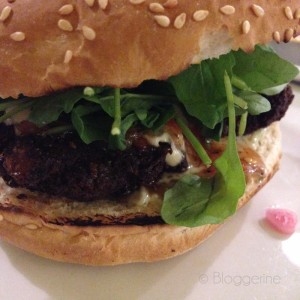 Falafel – Vegetarischer Burger
Das war dann unser erster gemeinsamer Restaurantbesuch in London. Eine Mischung aus Fast Food und normalen Restaurant. Man bekommt einen Platz zugewiesen, muss das Essen selbst an der Kasse bestellen und bezahlen, bekommt dann aber das bestellte direkt an den Tisch gebracht. Stilles Wasser gibt es in Karaffen mit passender Gläseranzahl umsonst. Besteck und Servietten stehen in Blechdosen auf dem Tisch, die vorrangig als 2er-Tisch im Restaurant zu finden sind. Die Atmosphäre war sehr angenehm und unter Woche aus ausreichend Plätze frei.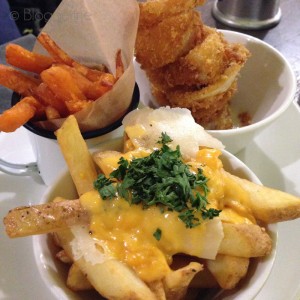 Süßkartoffel-Pommes und besonders dünne Pommes, Zwiebelringe